The elegance of simplicity in luxury
Following a complete revamp in 2023, the Riad Esprit des Patios is a haven of serenity situated in the heart of the historic medina. With the vibrant souks and bustling main square a mere stone's throw away, guests enjoy an immersive local experience.
Whether your trip is for leisure, business, a honeymoon, or a fun vacation with loved ones, Riad l'Esprit des Patios ensures a remarkable and memorable stay. This tranquil retreat prides itself on crafting an exceptional holiday experience that you'll remember fondly
IN THE HEART OF OLD MEDINA
Situated within Douar Graoua, one of the most historic quarters of the Medina, the Riad enjoys a privileged location accessible directly by car. For your convenience, several secure parking facilities are available in the vicinity.
A short 100-meter stroll away lies the enchanting Palais Moulay Idriss, brimming with charm and history. Beyond, the famed Jeema El Fna Square beckons, a mere ten-minute saunter through the winding alleys. From there, continue your serene exploration through the captivating souks, leading you towards the renowned Spices Square, a sensory delight awaiting your discovery.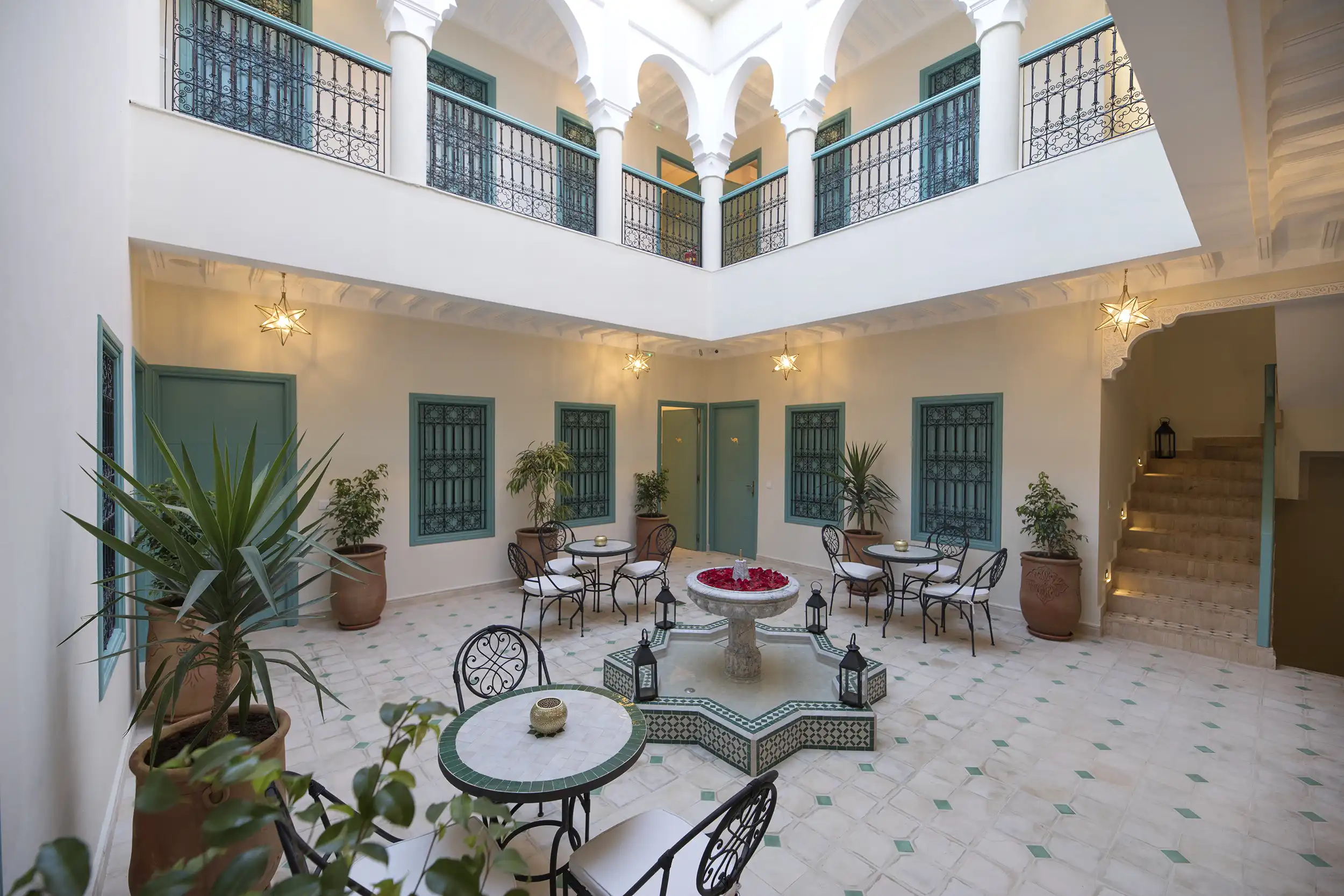 Imbued with a tranquility that is gently caressed by the warmth of sunlight, this Riad embraces the quintessential tradition of Moroccan homesteads. Its layout is thoughtfully designed to facilitate your enjoyment of leisurely breakfasts or meals amidst its inviting atmosphere. 
The enchanting play of light, coupled with the gentle sway of trees, contributes to an environment imbued with serenity and wellness. Here, you will find a perfect setting to rejuvenate and recharge, as you surrender to the calming symphony of nature that surrounds you.
The Riad features several salons, each seamlessly unfolding onto the inviting patio. The expansive main lounge creates a warm atmosphere, providing a comforting setting for your meals. In addition, a dedicated corner for relaxation is readily available, generously furnished with reading materials, board games, and an extensive array of documentation on Marrakech and Morocco. 
This rich compilation of resources offers you the chance to deepen your understanding and appreciation of the local culture, making your stay an immersive cultural experience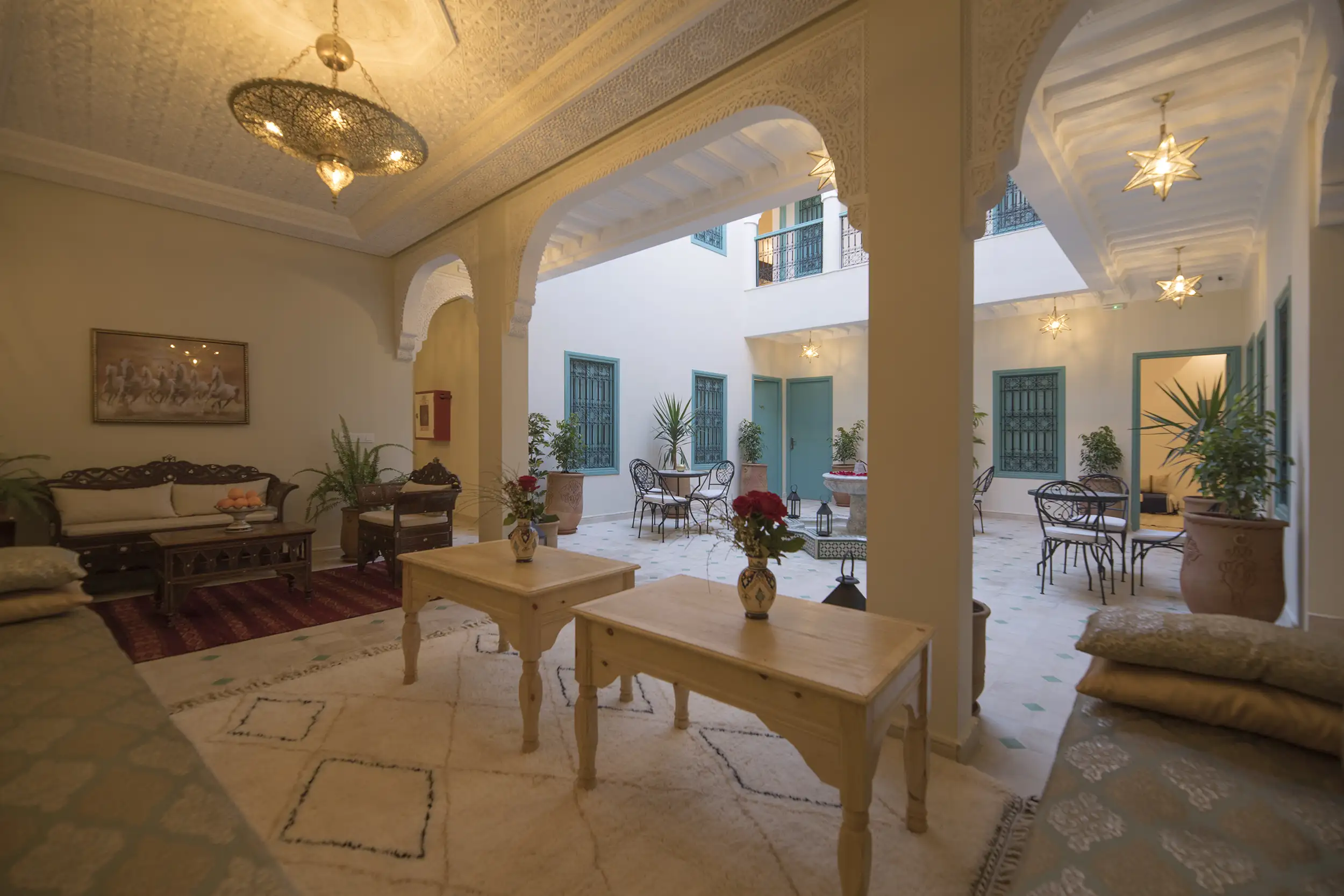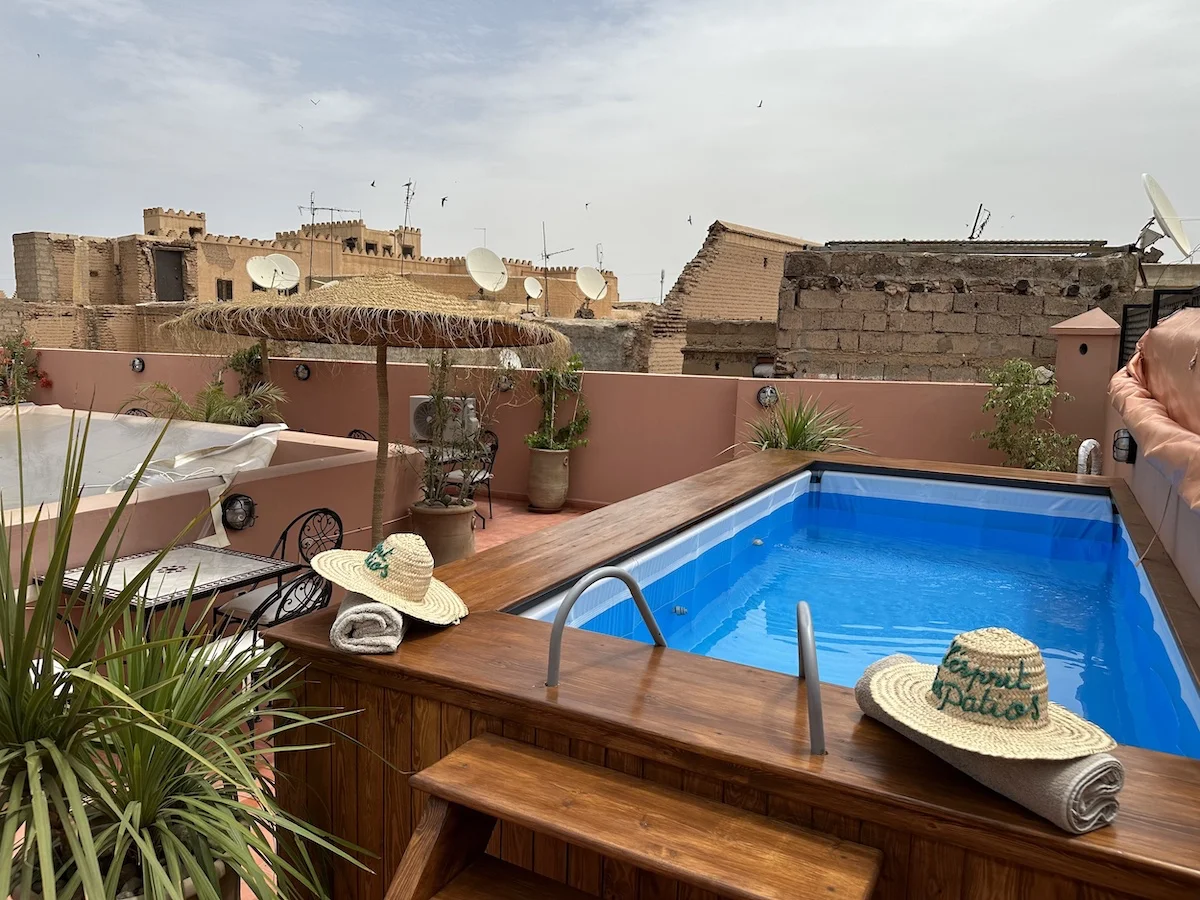 Beautiful and spacious, this space allows you to bask in the Marrakech sun from the comfort of the lounge chairs, or to take a refreshing dip in the shimmering pool. A cooling shower is also available for your convenience.
Numerous shaded lounges beneath pergolas, and a bar serving freshly made fruit cocktails provide perfect spots for relaxation. A dining area is also set up, inviting you to enjoy your lunches and dinners amidst the breathtaking rooftop views of Marrakech.
EXPLORE OUR
ROOMS & SUITES
Riad l'Esprit des Patios proudly presents a collection of eight rooms and suites, each exuding its own distinctive character and style, all with views spanning across the enchanting main patio of the Riad. As you select the room category most aligned with your desires and requirements, prepare yourself to be captivated by the exceptional experience that awaits you in the bewitching city of Marrakesh.
Book your stay with us directly with the best rates available